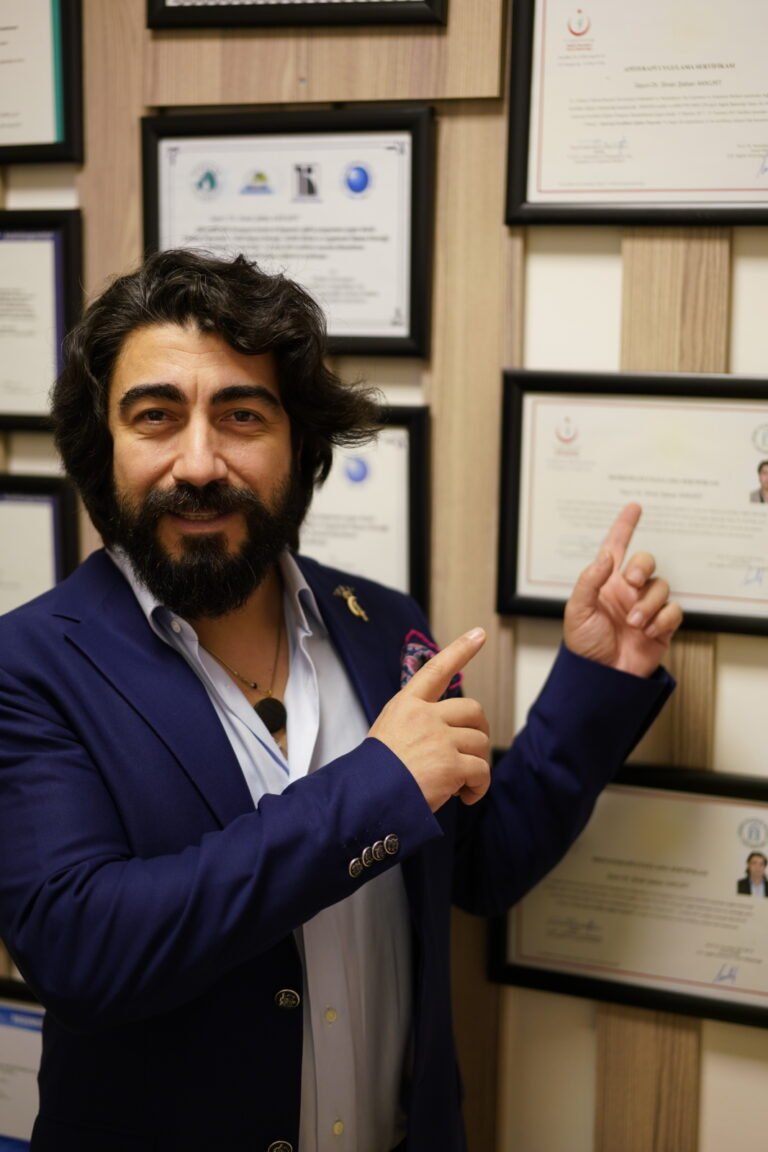 Introducing bioresonance therapy, which is an auxiliary medicine method, to Turkey, Dr. Sinan Akkurt graduated from Ege University Faculty of Medicine in 2000. He worked as a Family Physician for seven years in Manisa, which was his first place of duty. Meanwhile, by participating in many national and international training programs, he added certificates on many methods of natural medicine besides his medical diploma. Having received training in different natural medicine approaches such as pranic healing, matrix energetics, hypnosis, kinesiology at home and abroad, Dr. Sinan Akkurt especially focused on the bioresonance method.
Applying the bioresonance method, which has been used in Europe for nearly 40 years, to his mother and sister, who were found to have cancer, for the first time unexpectedly, Dr. Sinan Akkurt has witnessed in these examples that the method can support the treatment of the disease. He received advanced training in the bioresonance method and started to serve with this method in his practice in 2007. He still continues to serve actively in his office in Bornova, Izmir.
Dr. Sinan Akkurt also shares his methods with physicians all over the world as a speaker at international conferences so that the method will give hope to more patients. Dr. Sinan Akkurt is also the author of the book 'Bioresonance', the first comprehensive Turkish resource on bioresonance. (2016)
Dr. Sinan Akkurt is also the department editor of the book Advanced Mitochondrial Medicine and the book Chronic Inflammation – Molecular Pathophysiology, Nutrition and Therapeutic Interventions. (2021), on the other hand, was among the translation editors of the book Holistic and Functional Medicine - Nutritional Therapies - Principles and Practices. (2022)
Dr. Sinan Akkurt has been accepted as a doctoral candidate in the Department of Medical Biochemistry at Ege University Faculty of Medicine and is currently working on his doctorate there.
Married and father of two children, Dr. Sinan Akkurt speaks English.
Dr. Sinan Akkurt Muayenehanesi
Doctor
2007 - Now
Alaşehir Municipality
Doctor
2000 - 2007
Ege University, Faculty of Medicine
2000
Regumed Institute of Regulatory Medicine, Germany
Bioresonance Expertise
Pranic Healing Foundation, India
Advanced Pranic Healing and Pranic Psychotherapy
Regumed Institute of Regulatory Medicine, Germany
Complementary Cancer Treatment
European Hypnosis Institute
Hypnosis Training Program
C. Ministry of Health
Birinci Basamakta Psikiyatri Eğitimi
Geo Biologia Institute, Germany
Structural Biology (Radial fields, electrosmog and force fields)
Switzerland, Matrix-Inform Theory and Practical Studies
C. Ministry of Health, Family Medicine Stage 1 Adaptation Training
Turkish Medical Association, Occupational Medicine
İzmir Bioresonans Health Services
Kinesiology Certificate
Indian Institute of Inner Healing
Spiritual Essence of Man Education
His other presentations in the field of Bioresonance:
Integrative and Anatolian Medicine Congress, Bioresonance Applications in Clinic
2022
2nd International Congress of Microbiome Therapies, Gut Health and Supplements
2021
Holistic GIS Symposium, Evaluation of Laboratory Findings in Gastrointestinal System Diseases
2021
11th National Acupuncture and Complementary Medicine Congress, Scientific Perspective on Bioresonance
2021
1st Gaps Congress with International Participation, Supplements for Intestinal Health
2021
Microbiome Therapies Congress, Bioresonance and Microbiome
2021
2nd Holistic Medicine Congress, Q10
2021
3. Energy Medicine and Frequency Therapies E-Congress
2020
Mitochondrial Medicine and Chronic Inflammation Congress, Q10
2020
GAPS Consultants Knowledge Sharing Meeting, Q10
2019
2nd International 4th National Congress of Complementary Therapy and Supportive Care Practices, What is Bioresonance?
2019
WFAS , Treatment of Cigarette Addiction with Bioresonance Method
2019
Mitochondrial Medicine Congress, Q10
2019
1st National Frequency Medicine Congress, Cancer and Bioresonance Treatment, İzmir
2018
Magnetotherapy Congress, Bioresonance and Cancer Treatment
2018
Holistic Medicine Approaches in Cancer Diagnosis and Treatment Symposium, Bioresonance and Cancer Presentation, Bodrum, Muğla
2018
Bioresonance Applications in Oncology, 1st International and 3rd National Congress of Complementary Therapies and Supportive Care Practices, Antalya
2016
What is Bioresonance? What are the application areas? Izmir Chamber of Dentists, 23rd International Scientific Congress and Exhibition
2016
Bütüncül ve Fonksiyonel Tıp – Nütrisyonel Tedaviler
İlkeler ve Uygulamalar, Translation Editor
2022
İleri Mitokondriyal Tıp
Section Editor
2021
Kronik Enflamasyon
Moleküler Patofizyoloji, Beslenme ve Terapötik Girişimler, Section Editor
2021
Projects Involved as a Researcher
Investigation of the Effect of Ozone Therapy with Biochemical Biomarkers in Parkinson's Modeled Rats
2021
Ministry of Health Certificate Programs
Ministry of Health, Traditional and Complementary Medicine Education Certificate Program
Ozone Application
Ministry of Health, Traditional and Complementary Medicine Education Certificate Program
Cup App
Ministry of Health, Traditional and Complementary Medicine Education Certificate Program
Mesotherapy Application
Ministry of Health, Traditional and Complementary Medicine Education Certificate Program
Hirudotherapy Application
Ministry of Health, Traditional and Complementary Medicine Education Certificate Program
Apitherapy Application
Ministry of Health, Traditional and Complementary Medicine Education Certificate Program
Prolotherapy Application
Ministry of Health, Traditional and Complementary Medicine Education Certificate Program
Phytotherapy Application
Ministry of Health, Traditional and Complementary Medicine Education Certificate Program
Homeopathy
Ministry of Health, Traditional and Complementary Medicine Education Certificate Program
Acupuncture
His presentation titles at the International Bicom Bioresonance Congress:
Systematic Treatment of Malignant Tumors
2018
Cancer Treatment Workshop Training with Bicom Bioresonance
2018
Cupping Therapy with Bioresonance, Effective and Fast Treatment in Bioresonance Cupping Therapy: For example, Hernia and Cancer
2015
Treatment of Lung Cancers with Bioresonance
2014
Bioresonance Treatment in Migraine and Headache Diseases
2013
Bioresonance Therapy in Epilepsy Diseases
2012
Bold Treatment with Bicom Bioresonance in Advanced Cancer Diseases
2011